"The Museum of Mitten"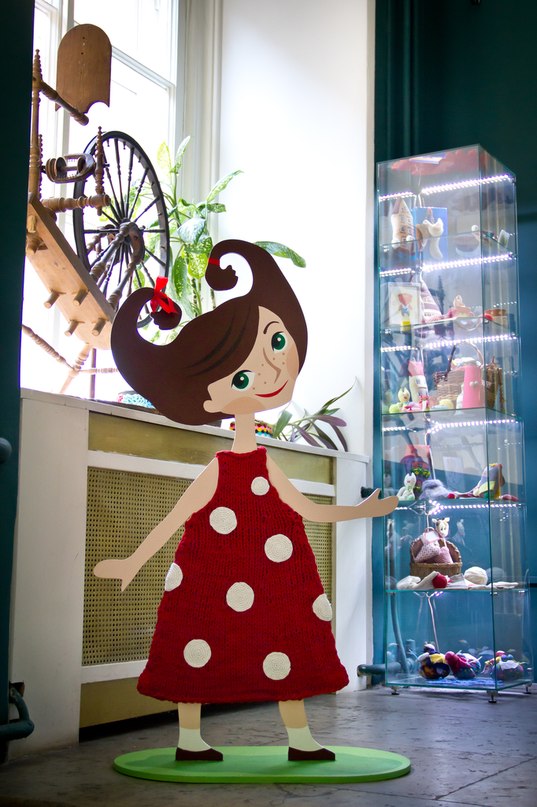 The museum of a mitten was opened on January 31, 2013, by the main Russian "wizard" - Father Frost. The winter wizard has left his winter residence, located 1100 km from St. Petersburg in Velikiy Ustyug, to open the new children's museum.
Accompanied by his helpers - children from St. Petersburg - the wizard headed off to look for his lost mitten in all the winter museums of St. Petersburg. Father Frost visited the Ice breaker Krasin and the Museum of Arctic and Antarctic.
(The ice breaker Krasin – it's the Arctic ice breaker of the Russian fleet which at the beginning of the 20th century was the most powerful Arctic ice breaker in the world. Now it is the museum of the Soviet fleet. The Museum of Arctic and Antarctic commemorates and displays the achievements of the USSR in exploration of these lands).
However, Father Frost has found his mittens and the warmest welcome in the Museum of a mitten in the house No. 87 on Moika River Embankment. As an expression of his gratitude for children's care and their help, he has left the magic mittens in the museum. In December, before the New Year's Eve, the fantastic residence of Father Frost opens in the Museum of a mitten and each guest can try the mittens on and make a wish, which will surely come true.
"The museum of a mitten" - is an art-platform about warmth not only for hands, but also for souls.
In the opening day in 2013, the museum occupied only 80 sq.m. At that time, it had a collection of more than 500 art objects, relating to mittens, made by children's hands. Some of these works were created by volunteers from charity organizations along with orphans from 15 Russian cities.
The main goal of the first collection of the Museum of a mitten was to draw adults' attention to problems of the children who had undergone violence, suffered from poverty, had been left without the help of adults. Another aim was to involve sponsors in financing the programs of rehabilitation for children-victims of cruelty through creativity and art-therapy. The project was supported by the children's ombudsman – the government body on protection the children's rights in St. Petersburg.
By 2016 the museum has broadened its room and now collections occupy about 600 sq.m. and include mittens from various countries and different regions of Russia, handicraft articles.
In the stylized and decorated in the medieval fashion hall of the Museum of a mitten one can see knightly gauntlets and old-time accessories for spinning and weaving. These objects belong to the St. Petersburg's historical Club of Historical Reconstruction "Komandoriya of the 13th century".
The collection of folk art of traditional crafts of Russia had been gathered during two years. It includes art objects in the form of mittens executed by the most known brands of Russia: craftsmen of CJSC Hokhlomskaya rospis, CJSC «Objedineniye Gzhel», JSC «Pavloposadskaya platochnaya manufaktura», the Kirov city office "The union of artists of Russia - National art trade "A Dymkovo toy", CJSC VKF Snezhinka (The Vologda lace). Also the museum stores and displays the biggest mitten in Russia. It's a unique art object - a huge mitten, which weighs 9 kilograms and measures 165 centimeters long. It has been created in the Komi Republic on a flashmob event on the International day of knitting in 2015.
Mittens from almost all the continents represent different countries of the world: there is a glove from the USA (North America), a mitten from Ecuador (South America), mittens from China, Germany, France, Croatia, Sweden, Finland, Norway, Estonia, Cyprus (Eurasia). The collection lacks only samples of handwear from Australia.

Some of the Museum premises are allocated for interactive space for children. So, in the tiny toy-houses (which are a striking example of modern arts and crafts themselves) one can find modern cook mittens, the ones of Russian health workers, police officers, firefighters.
Honorary citizens of Saint-Peterburg – the director of the museum "Hermitage" Mikhail Piotrovsky, Olympic figure skating champions A.E.Urmanov, E.V.Plyuschenko - have also donated their autographed gloves to the museum.

Collecting unusual mittens for the display, the museum employees have learned that in Russia there is a bird, which can knit mittens – a penduline tit (Remiz). It lives in Altai and has a pendulous nest in the shape of a mitten. In May, 2016, the exhibition "Birdies in the Mitten" took place in the Museum of a mitten joint with animals shelters. Guests could see dozens of bird species, learned about existence of shelters for birds in St. Petersburg, and how to help those birds, who have got into trouble. Since then about 10 live singing birdies have found their home in the museum. By the way, the most vociferous couple of birds is called Bonnie and Clyde. This couple of finches makes no more than 5 centimeters in a size (in spite of the fact that it has the name "tiger").

Seven rooms are devoted not only to the history of one object – a mitten itself, - but also reveal internal symbolic sense of a subject. The whole collection of art objects in "The museum of a mitten" reveals the notion of warmth as a spiritual phenomenon. Interactive excursions in bright spaces of the museum in a simple and available form teach visitors how to present warmth to beloved ones and strangers every day.

As a sign of help and support for loved ones the Museum of a mitten offers an unusual service - the Palace of registration of warm feelings, where everybody can express warm feelings and pay compliments to his soul mate, family, children.

More than 200 couples have used the service during the first year of the Palace work. At unusual excursion in the Museum of a mitten all of them have got acquainted with the traditions connected with a family, have learned about purpose of mittens in ancient wedding ceremonies, have participated in a romantic ceremony on an exchange of cordial words and mittens.

However, not only beloved ones can solemnly say kind words to each other, this service is also actual for families with babies. At a ceremony for mothers and fathers with newborns in the Museum of a mitten young parents can hear warm words of gratitude, a congratulation on appearance of the little person in their lives and get a gift. This beautiful ceremony is urged to strengthen the institute of a family.

For the help to all strangers the museum regularly runs charity events with participation of dozens of charity organizations. For schoolchildren there is an educational program «Lessons of Good Affairs», it is also organized «Mail of kind words» where you can write a cordial letter to a lonely elderly person in a nursing home, there are also exhibitions of artists-"outsiders" and the Museum accepts help for orphans and people with serious and rare illnesses.

From the date of opening in January, 2013 the staff of the Museum of a mitten has been paying a part of every working day for educational and rehabilitation work with children who got into a difficult life situation, children with special needs, orphans.

In 2014 the museum started a series of projects for children with reduced capabilities which include rehabilitation by methods of art therapy, kanis-therapy, sand therapy, musical therapy, clay-therapy. "Warm lessons of safety" which are conducted in the Museum of a mitten for the children, who found themselves in a difficult life situation, help teenagers to increase resistance to stress, form skills of a healthy lifestyle and active living position; they also prevent child neglect and help families to overcome socially dangerous situations.

From 2013 to 2016 the museum was visited by about 35 thousand people, more than 8000 of them were children, left without parental care. The Museum of a Mitten is a striking example of the working social business in St. Petersburg and social entrepreneurship in Russia.

At the Museum of a Mitten there are special workshops "Time to Help". The social manufactory "Time to help" includes sewing, knitting and pottery workshops in which toys, warm clothes and ceramic ware are made manually by people, who are in need for help - orphan teenagers, girls from the Little Mother project and elderly persons. Some of the created products are given to mentees of "Time to Help" fund as a donation, and some are sold in a charity shop.

The workshops activities are aimed at mitigation of a problem of unemployment for young girls who have been left without family support with a little child and prevent child abandonment. The pottery workshop completely reproduces a labor process of a potter, and gives orphan children a career-guidance and a chance to get the first experience of a labor activity. The project provides to elderly participants material support and allows them to be demanded in the changing world.

The assortment of the Social manufactory includes only 100% hand-made articles: warm mittens and socks, bright toys and ceramic ware with exclusive design in style of "The museum of a mitten".
"Warm mugs" (so called "Kruzhki-teplushki"), made of eco-clay, keep the warmth of human hands and souls. Lovely small trifles of "warm toys" (so called "Igrushki-teplushki") give warmth to children's palms. And the warming woolen things made by old ladies' caring hands give touching attention to loved ones. All these things are available in the charity gift shop at the museum.
It is there, at these museum workshops, where professional decorators and designers teach people interested both in ancient secrets and in modern eco-technologies of manual craft in creative studios during the academic year, which lasts in Russia from September to August.

Every day in the Museum of a mitten after an excursion, you can take part in a workshop of clay mittens painting. When acryl dries out, a manually decorated mitten will make a great souvenir magnet or a pendant. Each workshop takes about 15 minutes.

Besides pottery at the Museum of mittens you can paint the wooden spoons and even ethnical toys. Such work requires dexterity and takes up to 30 minutes.
Opening hours:
Everyday
11.00-19.00


Contacts:
Telephone enquiries:
(812) 966-01-66
Этот адрес электронной почты защищён от спам-ботов. У вас должен быть включен JavaScript для просмотра.

Address:
86, Moyka embankment
City Transport

Metro Stations: "Admiralteyskaya", "Sennaya", "Spasskaya","Sadovaya"
How you can help:
Everyday you can come to our museum and see the lessons with orphans. If you want to help too you can buy a handmade souvenir, made by children or by masters of the "Museum of mitten". All the money will go to the organization of extra lesson for orphans.